This is an excellent care facility layout: the example shown has a total of 44 beds; with 22 in each of two Households. These numbers are arbitrary and can be adjusted to suit.
The two households share a number of Neighbourhood service areas including Servery, Care Station, Clean Utility and Linen storage, Soiled Utility, Equipment Storage. All of these are co-located to the central part of each Household, near to the Amenity area and can be accessed from both Households.
Amenities are centralized for ease of staff supervision of residents and to reduce distances traveled for both residents and staff.
Bathing is provided in one Spa per Household, located at the beginning of the Residents rooms Privacy Zone. It is suggested that two different types of tubs be provided (one in each House): e.g. recumbent and sitting; in order to accommodate a variety of resident needs in the facility.
Resident rooms follow the Paired Ensuite model which maximizes space utilization: i.e. no wasted panhandle or vestibule: area provided is 24 sq. m.
Showers are anticipated for each ensuite which is fully wheelchair accessible.
Each Household has its own Front door: the design provides  for separation of the two Households with exit controls; or the Households can be left open to one another, allowing a walking loop.
A short Service corridor leads to the Servery for delivery of heated food carts for plating.
In a multistory version elevators could be provided in the lobby; and stairwells added as appropriate.
Each Household is easily subdivided into two smaller subgroups, each with their own lounge and activity rooms; based on 4 square metres per resident.
Dining is in groups of 22 for staff efficiency: based on 3 square metres per resident.
Each wing of resident rooms ends in an enlarged turn around at the end of the corridor.
If on grade, each Household has its own secure court-yard, accessed through doors in the Activity rooms. Multistory buildings will require partially enclosed good sized decks for each upper level Household.
If space permits some consideration could be given to a Neighbourhood shared Multipurpose/Activity space for each floor.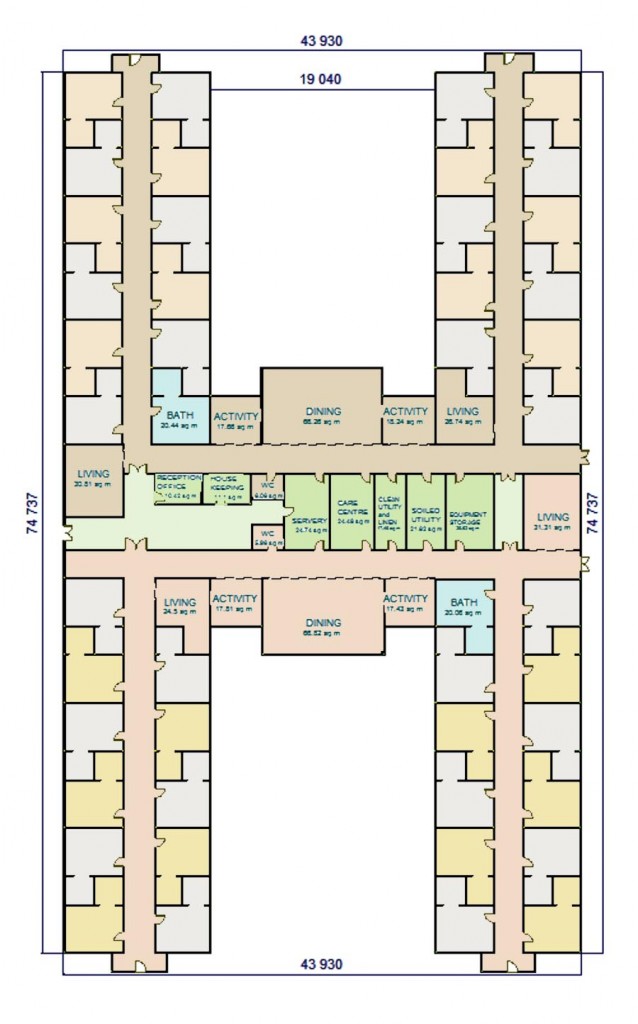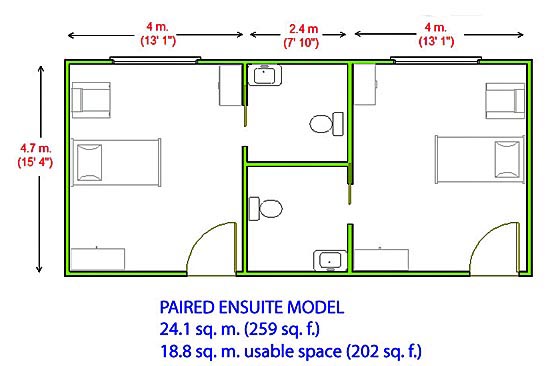 -->